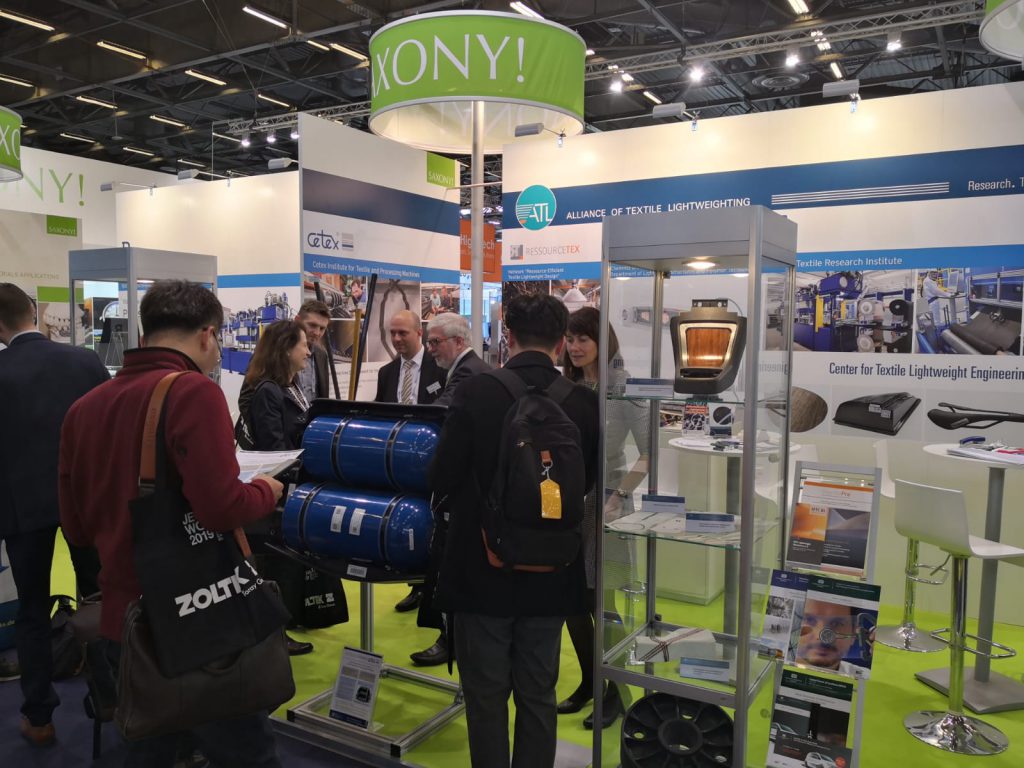 The partners of the Alliance of Textile Lightweighting STFI, IST / TU Chemnitz and Cetex informed on the joint booth Saxony in Hall 5, Stand C70 about current research projects and products related to lightweight construction.
The Chemnitz University of Technology presented in Paris the latest research results in the field of smart components and components with integrated sensors and actuators. The top tube of an e-bike made of glass-fiber reinforced plastic impressively demonstrated how efficiently and reliably acceleration sensors and strain gauges in miniature size can be integrated directly into the component. Furthermore, the newly developed blindstitch sewing technology was presented. 3D preforms made of a coatable first layer can thus be fully automatically equipped with an endless fiber reinforcement in three dimensions: and only where the load requirement requires it. Thus, the expensive carbon fiber strands are used cost-saving in exactly the right places.
The Saxon Textile Research Institute e.V. (STFI) presented innovations in the areas of textile lightweight construction and fiber composites. The focus of the show was on the presentation of project results, which are widely used in practice. This year, eye-catchers were demonstrators for the research project RecyCarb, including a bicycle saddle and a fender tip. Furthermore demonstrators were exhibited for the projects Carbon embroidery ground, Nonwoven RTM and Biogene Heavy Tows.
The presentation of the Cetex Institute focused on a VW plastic rack made of fiber-reinforced thermoplastic semi-finished products. The construction with optimized layer structure is characterized i.a. through savings in costs and weight. The Cetex-managed network "RESSOURCETEX", dedicated to the development of technologies for the production of resource-efficient textile- and fiber-reinforced plastics and products, presented work results from the first network phase.